Once upon a Time, the two best Golfers on the Planet played an 18 hole Match on TV, for the entertainment of the Golfing Public.
The Match was hampered by technology issues, and was won by the man that had previously come up short in head to head battles fought out at such venues as Augusta National and Riviera in Los Angeles.
Pride was at stake, and the two competitors were hardly friends, though their respect of the Game meant that no outward expressions of hostility would be detected.
I'm not referring to that utterly crass money grab concocted by Mark Steinberg and Steve Loy. I'm referring to Shell's Wonderful World of Golf episode of Ben Hogan & Sam Snead. The winner was paid $3,000, and the other guy got $2,000. It was magnificent to watch.
If a Golfing Fan last week asked me how best to spend $19.99, to watch a great match between two Great Golfers, there's only one answer… the Shell WWOG DVD.
Now let's talk about the crass money grab fiasco from yesterday.
Dan Wetzel, Yahoo's Sportswriter, called it worse than Caddyshack 2.
https://sports.yahoo.com/tiger-vs-phil-worse-caddyshack-2-013336864.html 
I'd say All Nail and No Thumb on that one. Nice work Dan.
Or how about this promotional shot…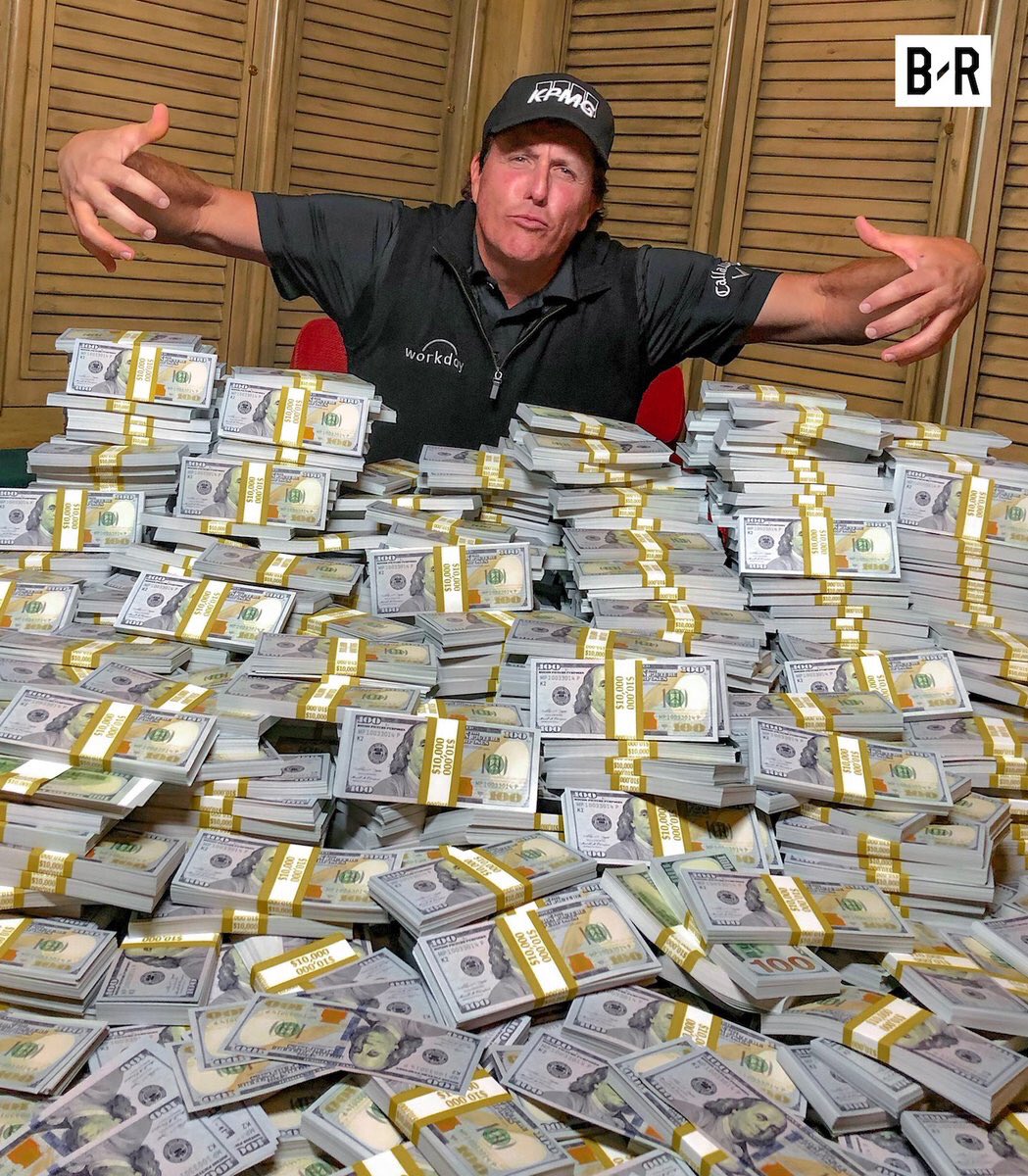 Does this say money grab or what?
They tried to put earrings on this pig with so called "side bets" for charity. Of course, that was pool money from the sponsors too, and Tiger and Phil seemed to lose interest in that aspect, as Phil huffed and puffed and Tiger grunted and snorted their way across the back nine. Charity? Oh, yeah, much in keeping with the PGA Tour's fig leaf of charity (I'll tell that story on a later day), it's used to mislead the real truths going on. Image and all…
$9M was not from their pockets. It also wasn't all the money. So stop acting as if it were.
The coming class action lawsuits to claw back the PPV fees by clients that learned that the glitches forced TBS to let people see it for free should be more entertaining than the match, by a long shot. Are all you red-light chasing lawyers paying attention?
Back to historic matches… Let's compare…
Ben Hogan, in Shell's WWOG hit all 18 greens at Houston CC in regulation, including a par 5 hit in two. His 35 well struck Golf Shots were performed over several days, with delays because of weather and the mobility (lack thereof) issues of TV Camera equipment of their day. His 34 putts (he wasn't known for his putting) were in keeping with his 52 year old nerves, and still, his 69 bested Snead by three shots. A real performance from a true professional and he did it at an age nearly a decade older than Woods.
Snead, admittedly unprepared, hit a number of excellent shots, really no bad ones, and his side-saddle putting was of a character of his career, poor by the standards then (like putting on Augusta's fairways), but abysmal by the standards of green quality of today's agronomy benchmark (billiard table like smoothness). Nonetheless, even missing a tap in on 18 because of lost interest, Snead posted an even par 72.
Here's the contemporary Sports Illustrated (SI) take on that one…
https://www.si.com/vault/1964/06/08/606856/a-dream-match-produces-a-dream-round
Woods and Mickelson? Not so much.
Well, first of all, Hogan and Snead cupped all their putts (no gimmes). Woods and Mickelson must have feared shooting 80's, because they gave each other putts no Golfer would give another after watching Tiger rim out his three footer on Hole Two.
Good-Good? Good-Good? This isn't a High-School Team Qualifyer where buddies try to help each other get on the travel squad!
Tiger's skanked heel shots off the tee gives the lie to the idea that he is some type of superior ball striker. Hell, with Hogan's Driver Tiger would have had a few whiffs, or at least a zoink straight into the gallery at a 45 degree angle. Let's say the truth here… modern equipment is so forgiving that never again will a Golfer attain the heights of the great ball-strikers of the last century.
As for Phil, he needs to spend some of that $9 million cash grab on some serious heart medical treatment and man-boob reduction. Don't make Amy a widow before her time. His gasping for breath climbing small hills makes Hogan's march across the Fairways at Merion in the 1950 US Open on legs and body destroyed by the Bus Crashing into his car a year earlier look like a Decathlete's performance at an Olympic Games.
Look what the powers that be (money = power today) have done with a beautiful Game.
Where does Golf Go From Here?
Well, now that I will have thoroughly pissed off Tiger, Phil, their Agents, the TV Clowns that enjoyed their paychecks facilitating this fiasco, as well as die hard man-crush on Tiger and Phil groupies, it's time I took the gloves off and set this right. So here goes…
Tiger, I know you're still pissed off at the $68 Vince Covello took you for on the green at the Medalist Club in January 2012. You remember… Vince (a mini-tour player) took Putting 2.0 Lessons from me, and my Black Hawk Putter, and drove down from TPC Sawgrass to the Medalist (your home club) and walked up to you on the practice tee and challenged you to a match… remember? (Good Lord did Vince have stones for…)
And after he booted your butt on the green, you tested the putter, asked him where he got it. "David Kargetta at TPC Sawgrass" was the answer. You surely remember what happened next, only you don't know the true version of the story. You "know" what your handlers told you, and it was surely not the truth.
You surely also remember me teaching at the Medalist the next week, watching me roll in 60+ footers for Ricky and Hugo and Hank… while explaining why making such putts was physically possible (actually, likely) with the right tool and technique.
Remember?
You want to know the whole truth of that period?
You want to try to get back that $68, plus a lot more?
Well here's your chance.
I'm challenging you and your buddy Phil to a $1 Million per Man three-way Putting Challenge. Winner Take All. The Challenge would take place at Torrey Pines… you like the greens there, and Phil lives right down the road at Rancho Santa Fe.
This idea has been in my mind since you saw me putt at the Medalist. Only then it was just you. But seeing as Phil has an extra $9M in the bank (less the taxes… you will pay the taxes, right Phil? Don't listen to the advisors that led you astray during that Walters fiasco)… so including him makes perfect sense.
Like I said, the Challenge will be at Torrey. We set up three Putts, all three about 33 feet in length… this is the distance of average proximity on the PGA Tour (check the stats) and it's where three putts about equal one putts.
We each start at a station (A, B, C). Putt as many balls as needed to make ten, then move to next station (A-B, B-C, C-A). Your score is how many balls (putts) you need to hit, to make the thirty total putts on all three stations.
Pretty simple. Make thirty "33 Footers" in fewer putt attempts than I can make (or Phil manages) and you win. A $Million from me, and a $Million from Phil.
Tiger, I know you won't say yes to the Challenge. You've got too much to lose, and only $2 Million to gain. Especially since your agent is still pissed he didn't get to collect the $1 Million he was supposed to get back in January of 2012, when the deal that his go-between thought he had in his pocket didn't happen. You remember that one too, I'm sure. But only… you don't know the real truth of that aborted Nike deal, either. You want the truth? Well… I'll tell you the whole story on the green at Torrey. Bet you fire some people once you know the real truth. You coulda won a bunch of Majors since then. Not my fault you didn't.
Here's a direct line to me Tiger… call 833-ONE-PUTT (833-663-7888) and we'll chat. Tell Mark to take a rest on this one, I like doing things the right way.
Okay… one last stab at getting you to say yes to the Challenge. You and Phil only need to make Nine, not Ten Putts at each station. 27, not 30. I'm going to spot you a gimme on each of the three stations… your first putts at each are conceded by me. That gives you a 10% (or 11.1%, depending on which way you look at it) advantage on me. Still afraid to say yes?
In case you want to do some opposition research, check out my videos… even though I'm sure your memory is good about me making putts.
World Record at Fairbanks Ranch…
https://recordsetter.com/world-record/consecutive-golf-putts-holed-from-33-feet/38143
Vimeo site videos…
https://vimeo.com/oriongolf/videos
Oh yeah, for Phil… here's a putting video at The Farms (your home course) you might want to check out… and ask the Members there about my putting when I was there to teach Putting 2.0… (on this video the green was aerated and bumpy). Go ahead and try to replicate it… I'll give you two months filming to do it once (that's the odds) on good greens.
So… I'm waiting Tiger… call 833-ONE-PUTT (833-663-7888). Torrey Pines. You wouldn't talk to me that day at the Medalist (your handlers saw to that). Meet me on the green though, and You'll learn the whole truth. Isn't that alone worth the Million?
Oh yeah Tiger, by the way, when I kick your butt way worse than Vince kicked your's long ago, you'll pay the Million straight to the Charity I've given my life (7 years and counting) and this project for… Children's Bone Cancer research to find a solution. I don't do cash grabs. And I don't care what people think… I care about what God thinks of what I do. Maybe that's why my Daughter got the Heaven Miracle. I stay true to Integrity because I'm asking Him to give me two more Miracles, both needed as much as the first.